PM Vishwakarma Yojana
---
PM Vishwakarma scheme: The PM Vishwakarma scheme was announced by Finance minister Smt. Nirmala Sitaraman during her 2023-2024 budget speech.The full name for PM Vishwakarma is PM Vishwakarma Kushal Samman.
The scheme is also called "PM VIKAS Yojana" or "PM Vishwakarma Scheme".
The Union Cabinet approved the implementation of PM Vishwakarma in India on 16th August 2023. Union Cabinet has set the date for its launch as 17th September 2023. The PM Vishwakarma Yojana will be launched on Vishwakarma Jayanti, 17-08-2023.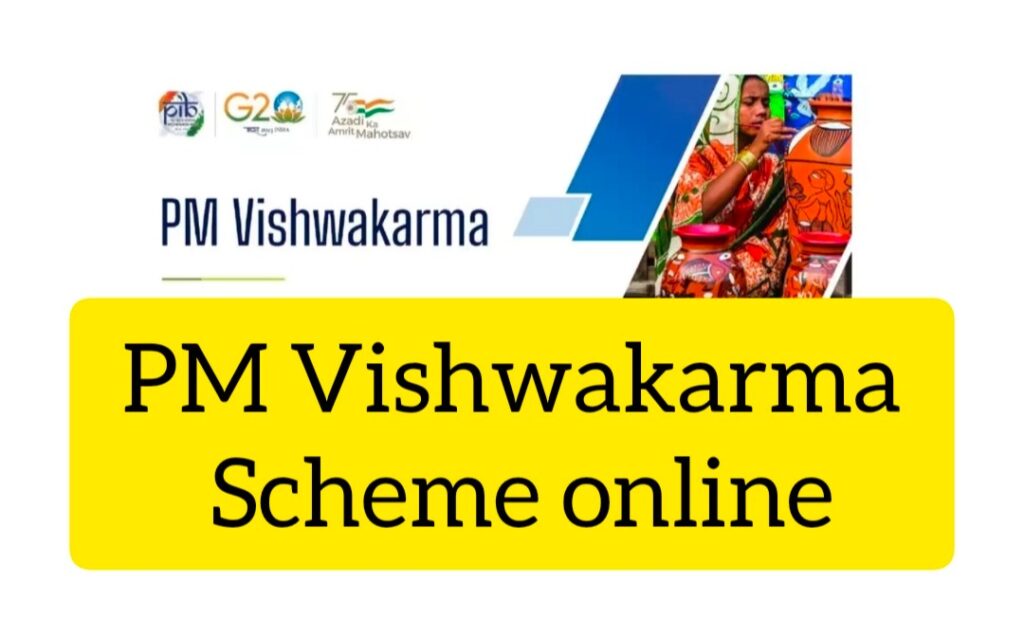 What is Vishwakarma Yojana Scheme
The PM Vishwakarma Scheme, which is an initiative that operates under the Central Sector Scheme category, boasts of a significant financial allocation. 13,000 crore. Its implementation is scheduled to take place over a five-year period, from FY 2023-24 until FY 2027-2028.
The PM Vishwakarma Scheme will provide recognition to artisans and craft people through a PM Vishwakarma Certificate and ID Card, as well as Credit Support of upto Rs.1 Lakh (First Tranche), and Rs.2 Lakh (Second Tract) at a 5% concessional rate.
| | |
| --- | --- |
| Name of scheme | PM Vishwakarma yojana |
| Launched by | Govt of india |
| Time period | 5 years (2023-24 and 2027-28) |
| Starting date | Not mentioned |
| Last date | Not mentioned |
| Official website | Comming soon |
Benefits of PM Vishwakarma Scheme
1.Recognition: They will be issued a PM Vishwakarma certificate and ID card, which will help them to avail benefits under other government schemes.
2.Credit support: They will be eligible for a credit of up to Rs. 1 lakh (first tranche) and Rs. 2 lakhs (second tranche) at a concessional interest rate of 5%.
3.Skill upgradation: They will be provided with training in modern skills and technologies to improve their productivity and competitiveness.
4.Toolkit incentive: They will be given financial assistance to purchase tools and equipment.
5.Incentive for digital transactions: They will be given an incentive for using digital payments and marketing their products online.
The PM Vishwakarma Scheme will be implemented by the Ministry of MSME.
The application process for the PM Vishwakarma Scheme will be online.
The benefits under the PM Vishwakarma Scheme will be available to all eligible artisans and craftsmen across the
Types of traditional trades of Vishwakarma Scheme
There are 18 traditional trades that will be covered in 1st instance
| No. | 18 traditional trades |
| --- | --- |
| 1 | Carpenter (Suthar) |
| 2 | Boat Maker |
| 3 | Armourer |
| 4 | Blacksmith (Lohar) |
| 5 | Hammer and Tool Kit Maker |
| 6 | Locksmith |
| 7 | Goldsmith (Sonar) |
| 8 | Potter (Kumhaar) |
| 9 | Sculptor (Moortikar, stone carver), Stone breaker |
| 10 | Cobbler(Charmkar)/ Shoesmith/Footwear artisan |
| 11 | Mason (Rajmistri) |
| 12 | Basket/Mat/Broom Maker/Coir Weaver |
| 13 | Doll & Toy Maker (Traditional) |
| 14 | Barber (Naai) |
| 15 | Garland maker (Malakaar) |
| 16 | Washerman (Dhobi) |
| 17 | Tailor (Darzi) |
| 18 | Fishing Net Maker |
Pm vishwakarma scheme eligibility
1.The beneficiary must be a resident of India.
2.The applicant must be an artisan or craftsperson engaged in traditional crafts and skills.
3.The applicant must belong to the Other Backward Classes (OBCs) category.
4.The applicant must have a bank account linked to their Aadhaar card.
Documents required for PM Vishwakarma Scheme
1.Aadhar card
2.Voter ID card
3.PAN card
4.Bank account details
5.Proof of residence
6.Proof of identity
7.Proof of income
How to apply PM Vishwakarma Scheme online
The PM Vishwakarma Scheme online application process has not yet started. It is expected to start on September 17, 2023, which is Vishwakarma Jayanti. The application process will be through the official website of the scheme, which is not yet live.
Steps to apply Vishwakarma Yojana online
1.Go to the official website of the scheme.
2.Click on the "Apply Online" button.
3.Now create your new account or log in to your existing account.
4.Fill out your application form and upload the required documents.
5.Submit the application form.
Read also
Gruha Lakshmi scheme application link online
gruha jyothi scheme Karnataka 2023
Pm vishwakarma scheme apply online ,Pm vishwakarma website,PM Vishwakarma Yojana Online Apply,Pm vishwakarma scheme how to apply,PM Vishwakarma scheme UPSC,Pm vishwakarma apply,Vishwakarma scheme 2023,Pm vishwakarma scheme how to apply,Pm vishwakarma scheme apply online,Vishwakarma scheme online apply,PM Vishwakarma scheme UPSC,Pm vishwakarma scheme eligibility
---